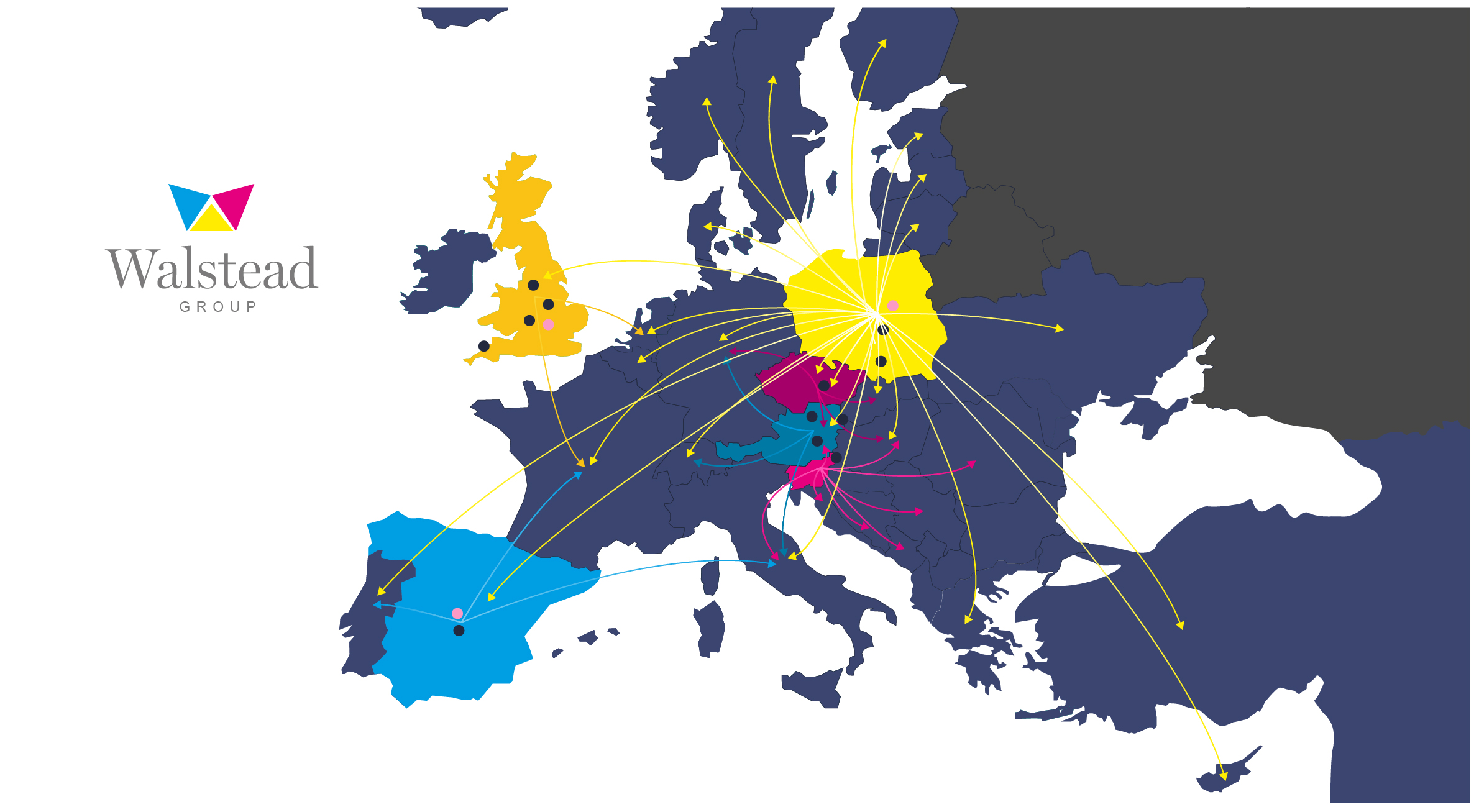 Walstead's logistics solutions.
No logistic challenge is too big for Walstead CE: you can count on us to deliver goods to any destination, using any transport means thanks to our hassle-free and cost-effective logistics solutions.
Whether you want to send 500 pallets or just five copies, we'll find the right option for the quantity in question. We'll also find the perfect solution for goods which don't conform to standard sizes. You need only tell us your requirements and we'll make it work. 
Walstead CE has countless logistics solutions at its fingertips. Our customers can choose between FTL (Full Truck Load) and co-loading, for example. They can also opt for fast delivery or options with longer storage, as well as co-packing with other projects that are ready to be delivered to stores. We offer door-to-door services but can also sort and complete products ready for distribution to different hubs.
We arrange delivery using couriers and local postal services, be it in Warsaw, Stockholm or Tokyo… Need speedy air freight? No problem, we'll take care of that too. In the process, we deal with all the customs procedures, including for more complex destinations such as Peru or Brazil, to name just a few. In short, we always strive to make the experience as hassle-free as possible for our customers. 
One of the reasons we can offer such a large range of solutions is that we work with a wide range of customers. By coordinating and efficiently managing combined deliveries, we can offer our clients a seamless service and lower delivery costs.
What's more, we can also arrange for deliveries to have a neutral carbon footprint. Not only will your goods arrive in a timely manner at their destination, but we will also help you be more eco-friendly and achieve your sustainability goals. 
Our teams are experts in global logistics. We ship products to more than 35 destinations in the world – each month we send 800 trucks, 18k pallets and 10k packages. 
Rozwiązania logistyczne Walstead.
W Walstead CE podołamy każdemu logistycznemu wyzwaniu. Możesz na nas liczyć – dzięki naszym różnorodnym i optymalnym kosztowo rozwiązaniom, Twój produkt zostanie dostarczony w każde miejsce, dowolnym środkiem transportu.
Niezależnie od tego, czy chcesz wysłać 500 palet, czy tylko pięć kopii, zaproponujemy  odpowiednią opcję. Znajdziemy również idealny sposób na dostarczenie towarów o niestandardowych wymiarach. Wystarczy, że podasz nam swoje wymagania, a my zajmiemy się resztą.
Walstead CE dysponuje licznymi rozwiązaniami logistycznymi. Nasi klienci mają do wyboru np. FTL (załadowanie pełnych ciężarówek), albo dostawy z ładunkami łączonymi. Można również zdecydować się na szybką dostawę lub opcję z dłuższym magazynowaniem, a także skompletowaniem z innymi materiałami gotowymi do dostarczenia do sklepów. Oferujemy usługi door-to-door, ale możemy również sortować i kompletować towary przygotowane do wysyłki do różnych centrów dystrybucyjnych.
Organizujemy dostawy za pośrednictwem kurierów i lokalnej poczty – w Warszawie, Sztokholmie czy Tokio… Potrzebujesz szybkiego frachtu lotniczego? Nie ma problemu, tym też się zajmiemy. Zadbamy o dopełnienie procedur celnych, także tych bardziej skomplikowanych, jak np. w Peru czy Brazylii. Zawsze staramy się, aby proces przebiegał jak najbardziej bezproblemowo dla naszych klientów.
Jesteśmy w stanie zaoferować tak dużą liczbę rozwiązań dzięki temu, że współpracujemy z szerokim gronem klientów. Koordynując i skutecznie zarządzając łączonymi dostawami, zapewniamy sprawną obsługę i niższe koszty.
Co więcej, możemy zorganizować dostawy tak, aby emisja CO2 była jak najmniejsza. Dzięki temu Twoje towary nie tylko dotrą na czas do wyznaczonego miejsca, ale także pomożemy Ci być bardziej przyjaznym dla środowiska oraz dbać o zrównoważony rozwój.
Nasz zespół to eksperci w globalnej logistyce. Każdego miesiąca wysyłamy 800 ciężarówek, 18 tys. palet i 10 tys. paczek do ponad 35 miejsc na świecie.