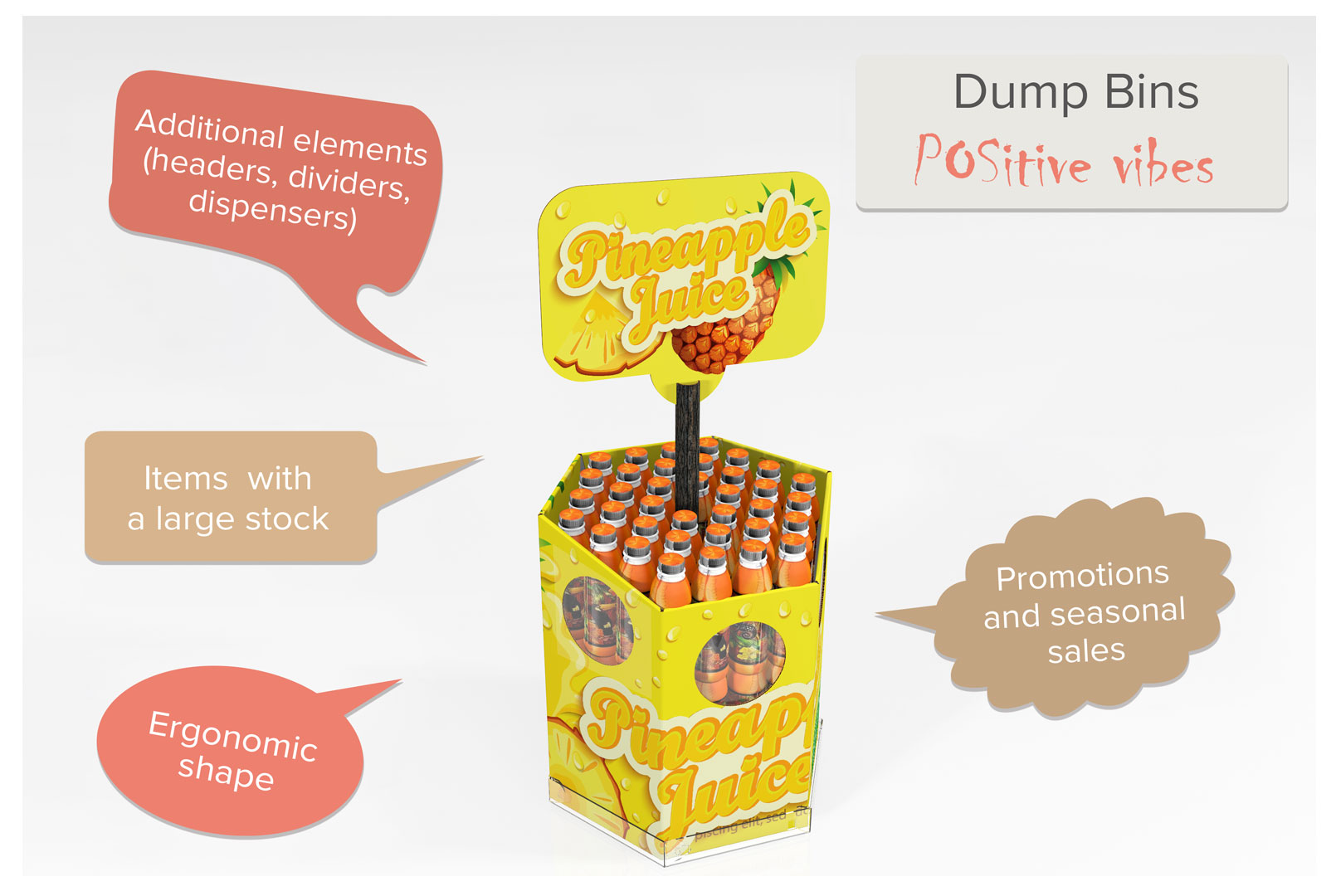 The beginning of the year is a season of sales, so Dump Bins cannot be missed in our POSitive vibes cycle. They are the most frequently used POS materials during promotions and seasonal sales.
Why? It's simple – Dump Bins bring the bargain price to your mind, and when choosing articles placed in them, you have the feeling of money well invested.
Dump Bins are POS material for all products. Before Easter you'll find chocolate sweets inside them, during Back to School campaign – school supplies for children (crayons, notebooks, pencil cases), and before Christmas – a various of Christmas tree decorations.

They can be distinguished by their original shape and graphics, have a header and dividers for organizing products or additional dispensers for promotional leaflets.
Except the visual, the practical aspect is also very important. The ergonomic shape allows for exposure in a convenient location of the store, even in the checkout zone.

In addition, Dump Bins are an ideal solution for the promotion of items with a large stock. They are able to accommodate many products (up to several dozen kilograms!). Thanks to this, the store's employees do not have to constantly monitor and replenish stocks.
New year, new POSsibilities! If you want to increase your sale, contact us today: ismsales@walstead-ce.com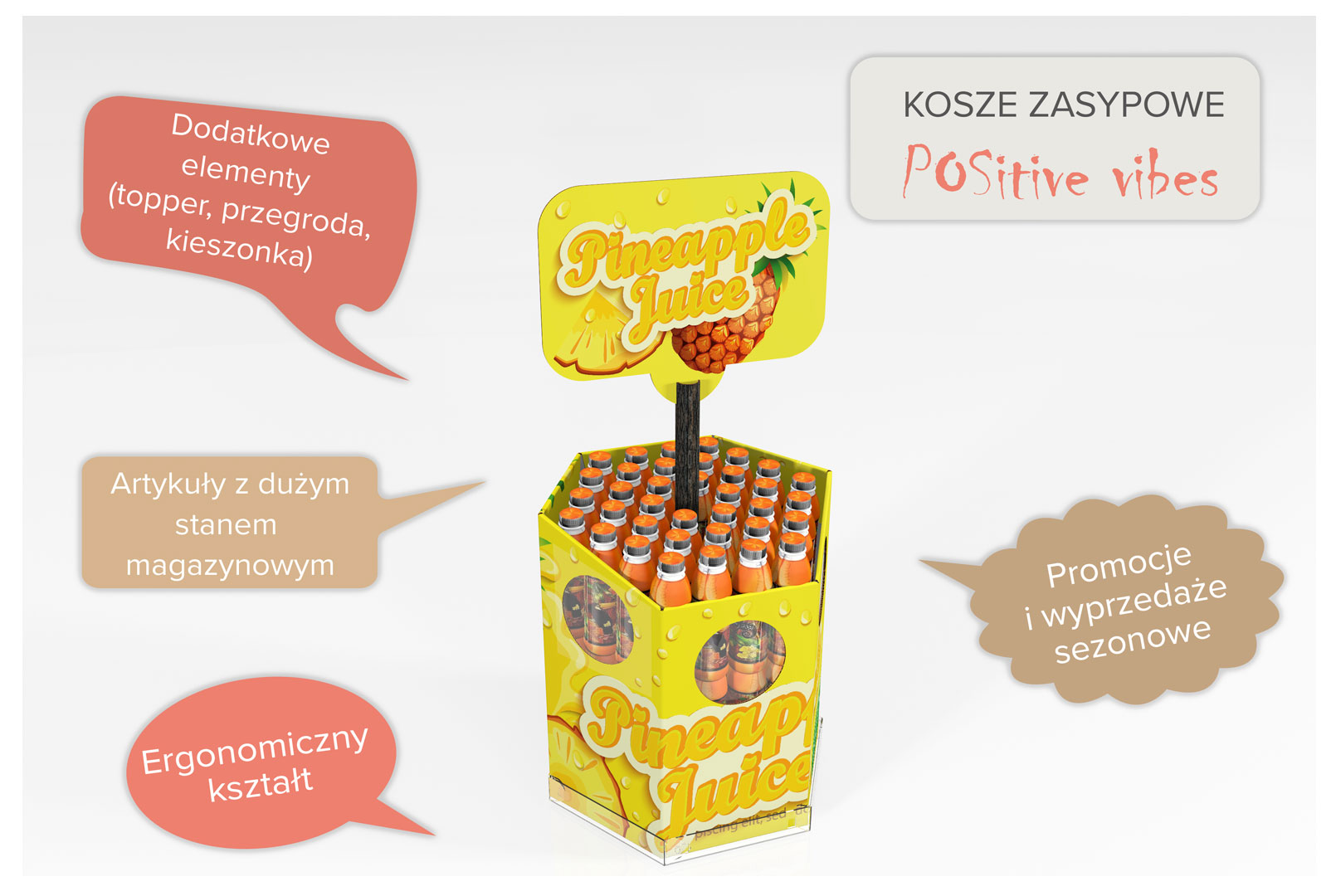 Początek roku to czas wyprzedaży, zatem w naszym cyklu POSitive vibes nie mogło zabraknąć koszy zasypowych. To właśnie one są najchętniej wykorzystywanym POS-em podczas promocji i wyprzedaży sezonowych.
Dlaczego? Sprawa jest prosta – produkty w koszach zasypowych kojarzą się nam z super okazją. Kupując je, mamy więc poczucie dobrze zainwestowanych pieniędzy.
Kosze zasypowe sprawdzą się praktycznie przy każdym asortymencie. Na Wielkanoc znajdziesz w nich słodycze i gadżety na śmigus-dyngus, podczas akcji Back to School – przybory szkolne dla dzieci (kredki, zeszyty, piórniki), a przed Bożym Narodzeniem – różne ozdoby choinkowe.
Mogą wyróżniać się oryginalnym kształtem i grafiką, posiadać topper oraz przegrody porządkujące produkty, a także dodatkowe kieszonki na ulotki promocyjne.
Oczywiście oprócz kwestii wizualnej, bardzo ważny jest aspekt praktyczny. Ergonomiczny kształt koszy zasypowych umożliwia ekspozycję w dogodnej lokalizacji sklepu (nawet w złotej strefie przy kasach!).
Ponadto, to idealne rozwiązanie do promocji artykułów z dużym stanem magazynowym. Są w stanie pomieścić wiele produktów (ważących nawet kilkadziesiąt kilogramów!), dzięki czemu pracownicy sklepu nie muszą bez przerwy monitorować oraz uzupełniać zapasów.
Przed nami nowy rok i nowe możliwości POS. Jeśli chcesz zwiększyć swoją sprzedaż, jeszcze dziś skontaktuj się z nami: ismsales@walstead-ce.com