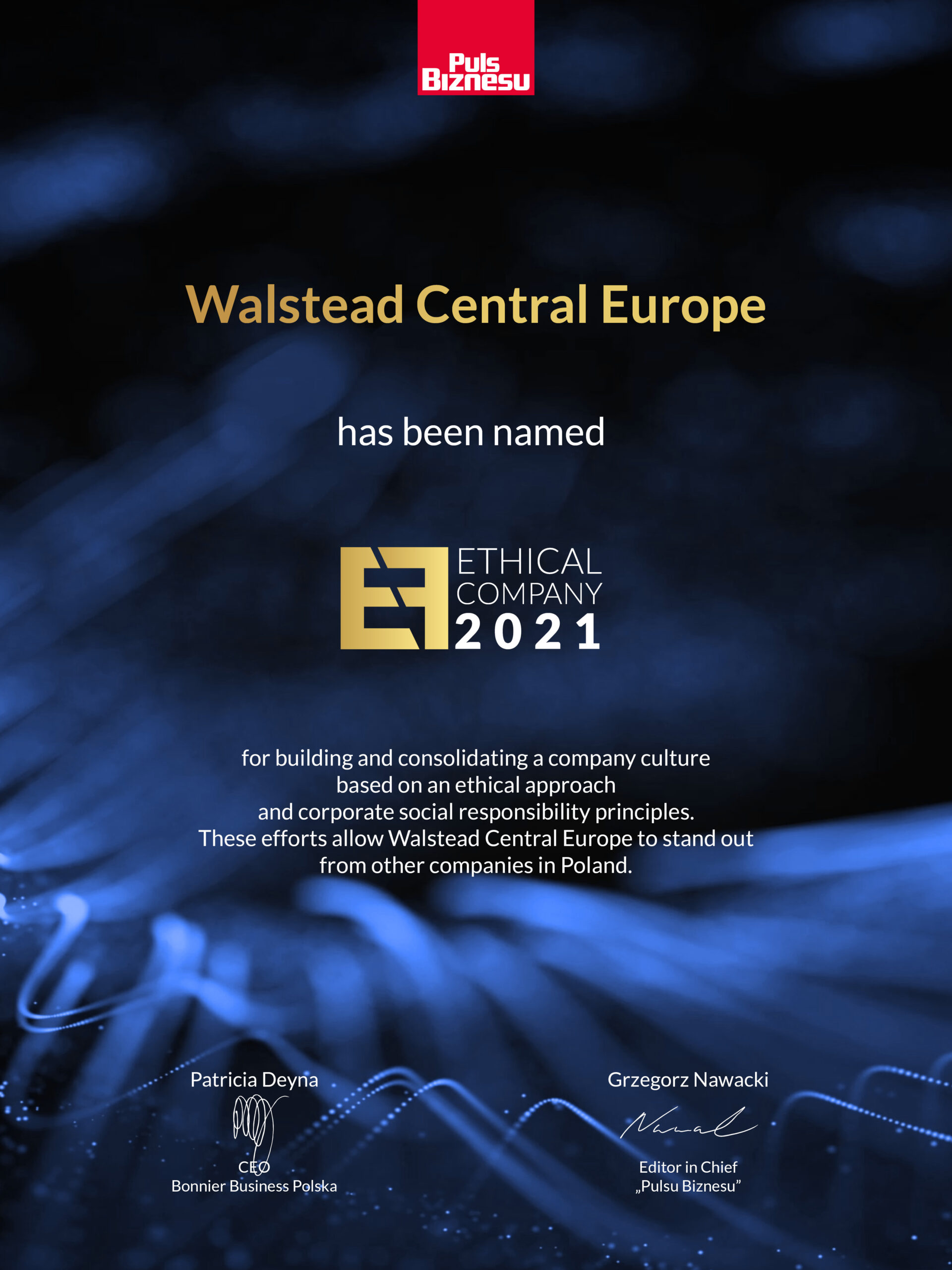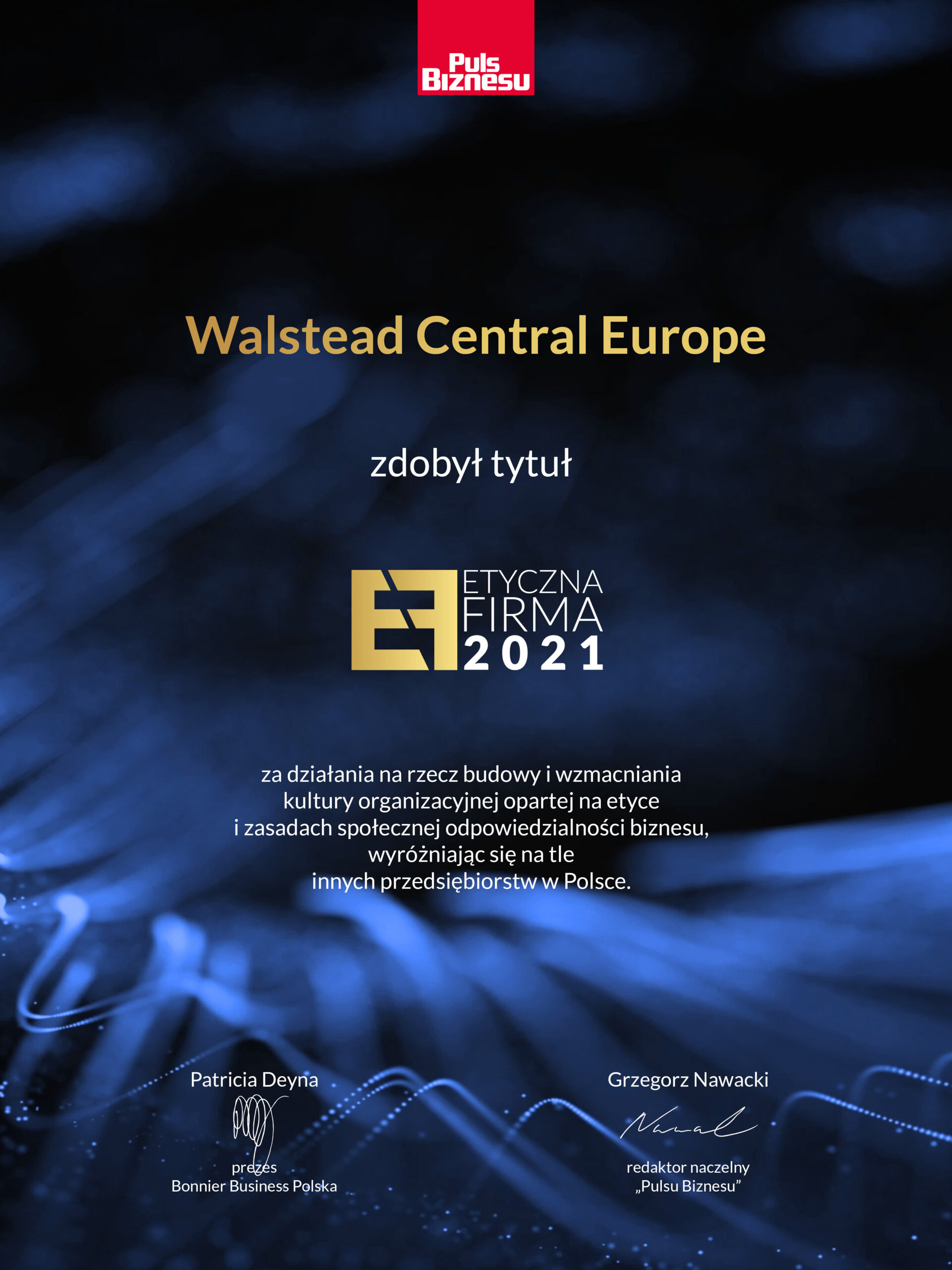 Ethical practices are a key component of the ESG (Environment, Social and Governance) approach, which lays out a set of criteria relating to environmental, social and corporate governance goals. With ESG, sustainability is a defining element of a company's development. Any company that cares about having a strong market position must put ethical behavior on a par with profit, research and development.
We are delighted to announce that Walstead Central Europe has been named Ethical Company 2021 in the awards established by the Puls Biznesu newspaper with PwC Legal Polska as a content partner. We are especially proud of this achievement knowing that the list of laureates comprised 25 of the most distinguished large enterprises in Poland. The title of Ethical Company strengthens the image of our company as a professional, socially responsible and trustworthy business partner.
Companies in the running for the Ethical Company 2021 title had to undergo an analysis of the business and corporate processes relating to their company's ethical management agenda, corporate governance, reputation and leadership.
The Ethical Company 2021 Awards have been organised in Poland since 2014 to promote the companies which place ethical practices at the heart of corporate governance.
Etyka jest kluczowym elementem ESG – angielskiego skrótu dla: Environment, Social, Governance, który określa wszelkie działania związane z tematami środowiska, społeczeństwa i ładu korporacyjnego. W ujęciu ESG rozwój firm został opatrzony bardzo istotnym przymiotnikiem "zrównoważony". Każda firma dbająca o mocną pozycję rynkową powinna traktować etykę i ład organizacyjny na równi z własnym zyskiem, badaniami i rozwojem.
Z wielką przyjemnością pragniemy powiadomić, iż Walstead Central Europe została uhonorowana tytułem Etyczna Firma 2021 w konkursie organizowanym przez dziennik Puls Biznesu wraz z partnerem merytorycznym PwC Legal Polska. Jesteśmy dumni, że znaleźliśmy się w wąskim gronie 25 laureatów, wybitnych firm w sektorze dużych przedsiębiorstw. Tytuł Etycznej Firmy 2021 potwierdza wizerunek naszej firmy jako profesjonalnego, społecznie odpowiedzialnego i godnego zaufania partnera biznesowego.
Firmy ubiegające się o tytuł Etycznej Firmy przeszły analizę biznesową i organizacyjną, odnoszącą się do agendy zarządzania etyką w firmie, w tym ładu korporacyjnego, przywództwa, reputacji i nadzoru przez kadrę kierowniczą.
Celem konkursu organizowanego od 2014 roku jest promocja i nagradzanie firm za rzeczywiste wyznaczanie standardów etycznych w organizacjach.